Self Storage.
Self Storage. Warehousing. Furniture Storage. Archive storage. Business storage.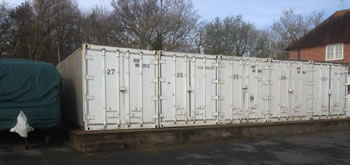 Secure insulated modular lock-up storage.
Add or vacate extra units as and when needed.
Complete freedom of access during normal business hours to your private storage unit within the warehouse or 24 hours aday, 7 days a week for the insulated units outside with your own key.
Visit every day if you need to, free of charge.
Exclusive occupation. No shared accommodation with attendant risk of loss or damage to your property - unlike ordinary warehousing.
Robust heavy-duty steel construction insulated storage units with individual security locks outside in our concreted CCTV covered fenced yard.
Special furniture containers inside our brand new intruder and fire alarmed insulated warehouse.
Optional insurance cover is available.
No hidden extras, compulsory handling or extra charges during normal business hours. Far cheaper than conventional warehousing.
We also store and redistribute palletised goods.
We have 15,500 sq ft of warehouse space and a large yard available for all types of storage
Self-contained insulated steel modules with exclusive security locks for each unit (1100cuft = 3 to 4 bed house)
Warehouse furniture containers (250cu ft - 1 unit = 1 bed flat, 2 units = 2 bed house)
Insulated intruder and fire alarmed warehouse
Concrete CCTV covered fenced yard
Forklift, pallet trucks and trollies are provided for customer's use within the complex.