Self Storage, Modular Buildings, Packaging Materials, Removals and Containers for Shipping and Storage.
Serving Battle, Bexhill, Hastings, Hawkhurst, Rye, Eastbourne, Tunbridge Wells and Ashford. East Sussex and Kent.
Contact us on enq@rcstorage.co.uk or call 01580 882268.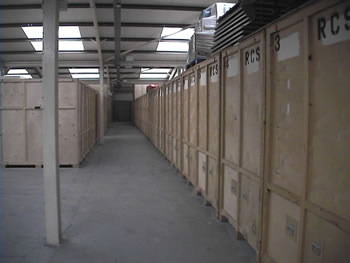 PLEASE WATCH OUR AWARD WINNING 4 MINUTE FILM TO GIVE YOU A FULL UNDERSTANDING OF WHAT WE CAN OFFER YOU.
Your problems of storing personal property, furniture, industrial equipment, vehicles, commercial goods or archive papers can now be completely overcome by using R.C.S's public storage centre located on A21 just south of Robertsbridge, East Sussex.
You can rent a mini-warehouse for short (minimum 4 weeks) or long term periods with minimum fuss and maximum security.
R.C.S offers you...
Convenience - Situated on A21 at Johns Cross. Opposite Caravan Centre.
Flexibility - Secure insulated modular lock-up storage. Add or vacate extra units as and when needed.
Accessibility - Complete freedom of access during normal business hours to your private storage unit in the warehouse and 24 hours a day, 7 days a week for the outside insulated units with your own key. Visit every day if you need to, free of charge.
Privacy - Exclusive occupation. No shared accommodation with attendant risk of loss or damage to your property - unlike ordinary warehousing.
Security - Robust heavy-duty steel construction insulated storage units with individual security locks, Furniture containers inside our insulated, intruder and fire alarmed warehouse, or outside in CCTV covered concrete yard.
Economy - No hidden extras, compulsory handling or extra charges during normal business hours. Far cheaper than conventional warehousing.
Packaging Shop - Removal, Book and Archive boxes, wrapping paper, bubble wrap, tape, mattress, sofa and armchair covers, shrink wrap, pens, woollen & paper blankets. All you need to pack your house or business up.
Removals and Shipping - Whatever you need moved anywhere in the World we can organise it for you. This includes packing if you wish. We will also collect your items you wish stored and deliver them back when you require.
Parcel Service - Don't stay in all day waiting for a delivery. Have your parcel delivered to or collected from us.
Pallets - We also store and redistribute palletised goods.
We have 15,500 sq ft of warehouse space and a large yard available for all types of storage
Rental Arrangements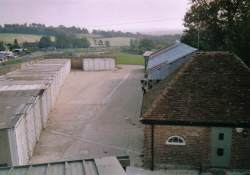 Paperwork is kept to an absolute minimum - a simple Licence Document and Termination Notice are the only formalities. Our terms and conditions are explained on the Licence.
R.C.S's staff are at your service and always ready to help and advise you. A small refundable deposit is required, plus four weeks storage charge in advance.
Two weeks notice is needed prior to customers vacating a unit.
Technical Information
R.C.S's storage accommodation comprises:
Self-contained insulated steel modules with exclusive security locks for each unit (1100cuft = 3 to 4 bed house)
Warehouse furniture containers (250cu ft - 1 unit = 1 bed flat, 2 units = 2 bed house)
Insulated intruder and fire alarmed warehouse
Fenced and CCTV covered concrete yard
Forklift, pallet trucks and trollies are provided for customer's use within the complex.